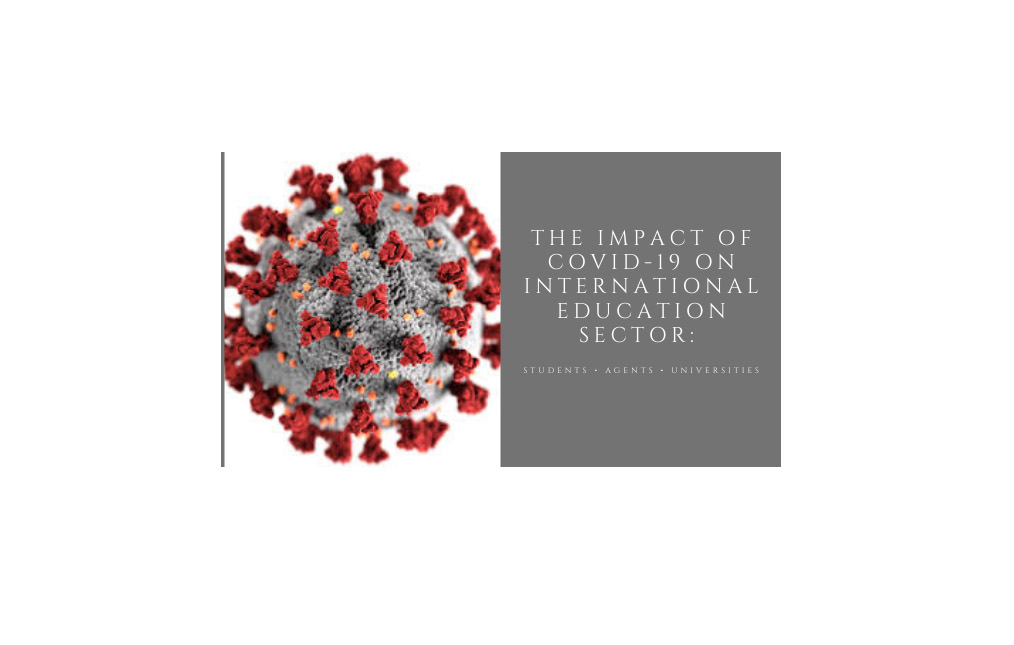 The COVID-19 pandemic has disrupted life in a major way all across the globe. In a first-ever lockdown in nearly every country, people are starting to see the effects this is having on the global economy, with many industries suffering a great deal as a result.
The full extent of these consequences on the higher education industry is not entirely clear at the moment although we've compiled a few facts and thoughts on how international students wanting to study in the UK may be affected.
How has COVID-19 affected the prospect of studying abroad?
The Coronavirus pandemic has already impacted the higher education sector in many ways and will likely continue to do so. If you are a student who is keen on pursuing higher education in the UK, for instance, it's important to understand how developments are taking place in this sector.
Here are just some of the effects that have already been observed:
Complete absence of face-to-face sessions and exams
To curb the pandemic from spreading further, many universities across the UK have suspended day-to-day on-campus activities such as lectures and exams. Where possible, all classes are being conducted online only. Exams may either be postponed or held in very different formats, which means that degrees may be awarded late as a result.
Immigration restrictions
Many countries have already limited the number of immigrants that can come through their borders. How exactly this may affect international students in autumn 2020 isn't quite clear, although it's a good idea to follow developments closely so that you can plan accordingly.
Admission eligibility
Certain actions taken due to the impact COVID-19 has had on entire countries means that the education sector may see delays in awarding higher education degrees. This could mean that if you apply for a UK study programme, you may not be able to meet all the requirements, irrespective of whether it's a foundation degree you're pursuing, undergraduate courses, business courses or other online courses.
However, it is quite likely that universities may adapt to the ongoing changes because they are aware that this is something which could negatively impact a large amount of first-year students who want access to higher education in the UK.
Application deadlines and admission procedures
Since COVID-19 has also affected university administration teams and applicant eligibility criteria, it is entirely possible that they may change their admissions processes and even postpone deadlines for application. We would recommend that you regularly check the website of the institution(s) you are interested in for any updates or changes to the above.
Guidance for International Students interested in UK study
The good news is that UK universities are continuing to process international student applications and the Autumn intake will likely run as planned.
You can discuss your current applications with us via online consultation or if you'd like to understand how we can offer a pathway to higher education in the UK during these testing times, please get in touch.
All international students looking to pursue higher education in the UK, including international business management, digital marketing, business courses or undergraduate courses at top universities like Coventry University or Bournemouth University – will be pleased to know that the UK Government will allow universities to sponsor international students on a Tier-4 visa.
If you're planning to extend your Tier-4 student visa in the next six months, it would be a good idea to begin the application process now. Our consultants are available to assist you in this regard and provide expert guidance throughout the entire application process.
We can't stress on this enough though: the importance of starting the application process right now. The current uncertainty means that institutions like the Home Office, universities and their respective embassies are overburdened and may only be able to process a limited number of applications within a desirable timeframe.
Will my Tier-4 sponsor withdraw sponsorship?
Despite the seriousness of the COVID-19 pandemic and the impact it is having worldwide on the education sector, your Tier-4 sponsor will likely not withdraw sponsorship or report you to the Home Office.
The Home Office for Tier-4 sponsors has directed sponsors that they are not required to report you or withdraw sponsorship unless you voluntarily withdraw from your course on a permanent basis or defer your UK studying plans for reasons that may not be related to COVID-19.
The typical scenarios under which Tier-4 sponsors are not required to withdraw sponsorship or report you to the Home Office include:
An absence of more than 60 days

Switching to distance learning either within the UK or outside

Studying through distance learning even though you have Tier-4 entry clearance but you have been unable to travel to the UK (for whatever reason)
Tier-4 sponsors may observe your engagement with distance learning and may inform you from time to time of the requirements you need to meet. This is why it's important to make sure that you always let your Tier-4 sponsor know if you need to put your studies on hold or postpone taking exams, even if it is completely online.
The reason for this is that education providers must know that you are generally in good health and keeping pace with the course, which can be difficult to determine since face-to-face classes are not being held at the moment.
In closing
If you have any questions at all about how COVID-19 may impact your Tier-4 international student visa for studying in the UK, please get in touch with us.
We love aiding international students when it comes to giving access to higher education, no matter what their place of residence. At British School of Marketing International (BSMI), we're a leading higher education college, providing students with pathway courses which consist of A'Levels, International Foundation in Business, International Year 1 and International Year 2. This enables students to easily progress to their desired level within our partner universities.
We also offer international students with English Language courses and Professional courses in Business, including Digital Marketing, Leadership and Management, Customer Service and Administration.
Visit us now to learn more about how we can help you pursue higher education in the UK amidst the COVID-19 crises.