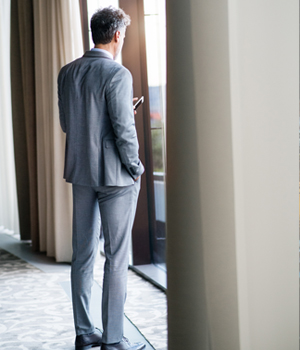 Our partnered agents choose BSMI due to the fact we have proven, over the course of our history, to be viable stepping stone towards academic and professional success within our students' lives.
For agents, this means that their students will be provided the opportunity to achieve their individual aspirations after completing our pathway, professional, and language courses. As our courses provide a solid foundation for success, for students of all backgrounds, this provides agents with a guarantee for future success that can often differentiate their services amongst a sea of similar providers. For those that seek to place students within academic pathway courses, it is assured that our students progress to attend a progression university upon completion of their studies.
Becoming An Agent For BSMI
Beyond ensuring the success of our students and by extension our progression universities, we provide our partnered agents with the marketing resources needed to build a successful practice while offering a full range of support as to provide each agent with the tools they'll need to guarantee their students find the right programme.
As BSMI continues to cultivate partnerships with leading universities across the EU and the UK, our partnered agents reap the benefits of a worldwide pathway course programme that is catered to allowing international students the opportunity to pursue their educational aspirations while abroad.
With benefits that include university placement guarantees, exceptional pastoral care options, and learning experiences catered to foreign nationals, we provide our agents with a clear path forward for marketing their services to an international community.
Additionally, each partnered agent receives access to a dedicated marketing portal designed to allow them a vast resource in developing, implementing, and monitoring their digital marketing campaigns.
Why become a partner
for Pathway Courses?
British School of Marketing International has clearly established links with Higher Education providers Coventry University, Bournemouth University, De Montfort University, the American Graduate School of Business in Switzerland and IU University in Germany. BSMI is expanding this portfolio of HE providers who accept our students onto their degree courses.
Here at BSMI we offer NVQ (National Vocational Courses) courses starting from a foundation level to all the way to the second year of an undergraduate degree. As well as providing students with the business foundation course in the UK, we also provide students with International Year 1 in Business Administration and International Year 2 in Leadership and Management progressing students directly to our progression universities.  The international year 2 in Leadership and Management (Level 5)  is equivalent to the second year at a UK University meaning that students have the opportunity to progress to the final year at our progression universities to complete their undergraduate degrees. Our graduates also find themselves in a strong position in the job market as attractive potential employees in any business related field once they complete their Level 5 course with BSMI.
Why become a partner
for Professional Courses?
In today's global digital economy the workplace is evolving and the workforce needs the skills to keep pace with these global business challenges. Skills gaps have been identified by the leading recruitment agency Hays Marketing Recruitment. It is our Professional courses at BSMI which respond to these skills gaps and the subsequent needs of employees and businesses alike.
This program is designed for students looking to develop key skills in all Business related roles. The course units include assignments designed to further your skills in sales, marketing, administration, economics, finance and management. All units are underpinned with language support in General English Whether a professional with many years of experience or at the beginning of a career in Business and Marketing , the career program with BSMI provides students with the skills and the confidence required to further a career in their chosen professional field.
What Agents Are Saying About BSMI
I work with BSMI since the beginning of 2020. The collaboration with BSMI has been good. I mainly work with BSMI for the Academic courses and the feedback of the students is very good. I also participated in a Digital Marketing Bootcamp that BSMI organised for partners agencies and it was very helpful and interesting. Thank you

deborah duncan

at
A very positive experience - highly welcoming and knowledgeable practitioners ran this Webinar.

Affy Kouser

Partner at MotivMed Limited
It was my immense luck and fortune to be the part of BSMI. The entire faculty and department leaves no stone unturned to shape one\'s future

Mr Mehul Brahmbhatt

Manager at LEARNINGLIFE
BSMI offers insightful expertise in all aspects of digital marketing from PPC and SEO to social media and Google Analytics. If you want to learn all the tricks that marketing agencies use to maximise your online presence, then you won't be disappointed with the high standard of teaching and in-depth knowledge of the tutors at BSMI.

Angela Taylor

at
The teaching at the schools is excellent. Teachers are both experienced and engaging. Students feel supported and looked after during their education journey. BSMI's commitment towards their students and partner agents is highly recommendable.

Fabiana Pereyra

at
BSMI is always helpful, trying to respond to our request with agility. They are very profesional. Thanks

Rosana Martín Moreno

Director at English Schools Up
BSMI is the ideal partner for any educational agency to have, as the professional courses have high quality and the content is always updated, to follow the latest trends in business. Their communication with agents is also efficient and they are always around to help our students!

Luciano Baldauf

Managing Director at Global Active Study
We have been working with BSMI since 2018. BSMI has been always helpful and I also recently attended BSMI's online Digital Marketing Course; the programme was helpful and very well organised. I highly recommend BSMI to our students. Thank you BSMI

Dr.Mustafa Ozer

at
I'm working with BSMI since 2020 and our partnership relationship has been quite successful. Thank you to BSMI for all their support and help.

Lyubov Kartashova

at
We are a partner with BSMI for many years. BSMI is a good school and all the staff is kind and nice. BSMI has been helpful, supportive with all our students. EN Education is very satisfied and happy to work with British School of Marketing International. We wish them all the best.

Khalid Mahdi

Director at En Education
Our collaboration with BSMI has been a success. In the last 2 years, our agency has sent more than 400 students, excluding the summer season. Annabel is very flexible and tries to meet the needs and budget of all Italian groups, even though it can be really hard sometimes. We have very positive feedback from our students and leaders.

Zuzana Krizova

Language Courses Manager at Sale Scuola Viaggi
Bournemouth East Cliff!
#seafrontview #bournemouth #sundayrelax #bsmitaly
Professional Diploma in Digital Marketing & Internship!
Congratulations in completing your English course at BSMI! We will miss you!