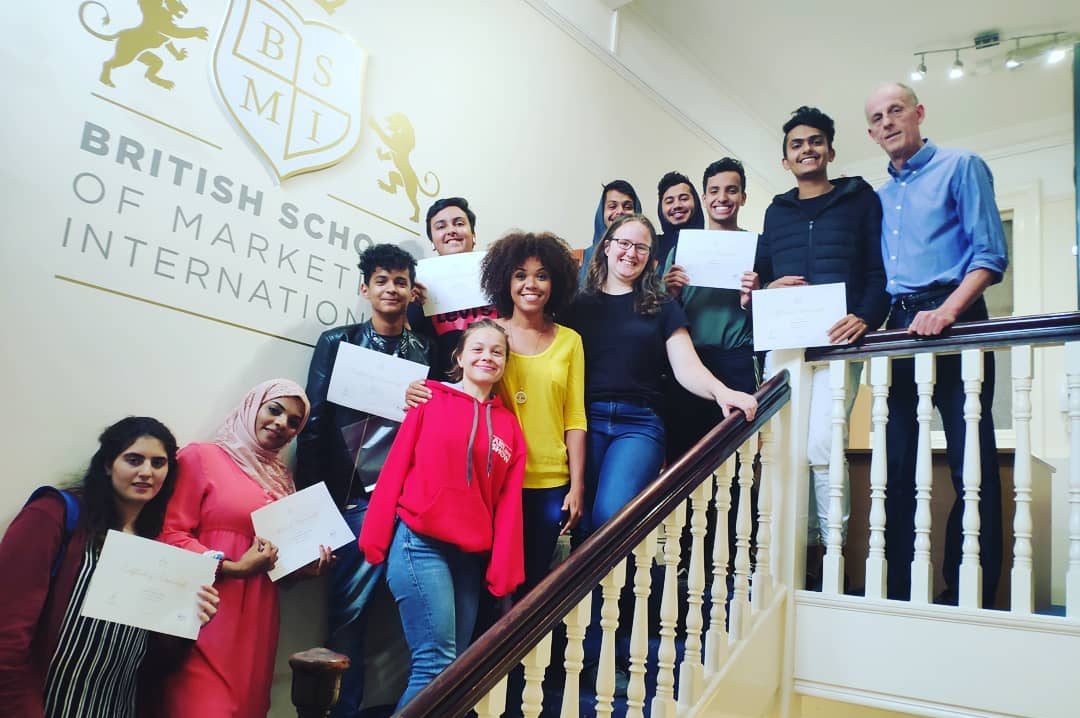 For international students, who are planning to study in the UK, but worry about their English Language skills not being strong enough, pathways programs, also known as bridge programs, are a good option. Pathways courses in the UK allow international students to study at further education colleges and gain valuable insights into British education and culture. These courses often last one year and on successful completion will lead to automatic enrolment into progression universities.
What is a university pathways course?
Pathways programs are preparatory courses that help international students to build proficiency in English Language skills and the academic qualifications that they need for higher education courses at bachelor or master's degree levels.
Pathways courses will enable admission for you into high ranking universities in the UK and overseas. The average duration of the pathway course is 9 to 12 months. Successful completion of the pathway courses at BSMI will enable you to progress to universities in the UK, USA, Canada and Germany.
Why study a pathways programme?
The key reason for studying a pathways course is to meet the admission requirements of high ranking universities in the UK, USA, Canada and Germany. Through the pathway course, you will be able to develop your academic knowledge and skills which are essential for your progression to universities as well as improve the English language skills you will require at a higher education level.
Instead of studying in one specific country or a location for the duration of 3-4 years, you can start your course in the UK, Bournemouth and travel to the destination of your chosen progression university.
If you would like to take a year out for various reasons such as work experience or travelling, pathways courses will enable you to continue your education at any given time since you will be gaining a diploma at the end of each level enabling you to progress to the next higher education level at any given time.
Moreover, for international students, studying directly at a UK university can be challenging since the students will be required to produce a very high quality of course work at a higher education level.
Pathways courses help students with their study skills, meaning that their tutors will assist them at all times with their academic development as well as their English ability to produce course work at the required level. This will provide students with the skills and knowledge necessary to progress to a wider range of universities following successful completion of their courses at BSMI. It will also enable students to complete their courses without a potential failure during their studies at a higher education level.
Through pathways courses, not only will students' progress to progression universities be greatly enhanced but so also will their chances of completing their courses at a higher education level increase significantly.
What type of students should study a pathways course?
International students who wish to study in the UK or in another English speaking country.  In addition, those students who are failing to meet the university entry criteria by not having the right IELTS level or the wrong academic qualifications or levels.
For these reasons, pathways  courses will help you to improve your English skills and academic abilities to vastly increase your chances of gaining admission to English speaking universities in the UK or overseas.
Studying directly at a university will take 3-4 years of completion in the same location,. Therefore, pathways  are a great choice for professional students seeking more flexibility in terms of location, time and financial commitment.
Due to recent unpredictable times we have all been through with the recent pandemic and the global economic crisis, some students may be facing financial difficulties and uncertainty to commit to a full time degree lasting 3-4 years. One solution for this is that the pathways  programme offers them the flexible opportunity of continuing their education at any given time.
What are the benefits of studying a pathways course?
Pathways courses are becoming very popular among international students who are planning to study abroad as it provides a perfect bridge to higher education courses helping international students to develop the language and academic skills that are required for universities.
The majority of students studying the pathways course are international students from all over the world. Not only will you never feel in the minority at the college but you will also have the opportunity to interact and engage with other multinational students thereby broadening your horizons and creating new experiences for your academic, career and self-development.
This also means that your tutors are all fully aware of the language and academic challenges international students face during their studies in the UK. In order to help you with your studies both academic and in English Language, you will also study a pre-sessional course, which has been designed to help you with the production of your course work consisting of assignments, presentations and projects.
Pathways courses in the UK provide international students with an opportunity to integrate with the UK culture and lifestyle through the assistance of welfare officers, qualified teachers experienced in teaching international students in their second language and social programmes that are all designed to help integrate you with British culture at a social, academic and personal level.
Pathways courses are designed to help international students overcome their hesitation and minimise the effects of studying abroad in their second language.
How to choose the right pathways Course.
Once you have decided to choose a pathways program in the UK, the next step is to select a progression university. This is of utmost importance, as you will need to decide which university you will need to attend to obtain your higher education degree.
Depending on your choice of university and the subject area, the requirements for your chosen progression degree may differ. However, you will be informed of all these requirements at the enrolment stage of your pathways course.
The education counsellors will help you with the choice of your progression university and the major area of studies at your chosen university. The other factors to keep in mind are the preferred location and the cost of the course at your progression university.
What are the admission criteria for admissions onto Pathways programs in the UK?
Admission requirements for pathways programs in the UK vary depending on the institutions. Although, it may also depend upon the student's country of origin. Students applying for pathways courses starting from foundation level need to demonstrate completion of their high school qualification or equivalent.
Students will also need to hold a relevant English Certificate required for admission. The UK Govt. recognised English Language Test Centres are provided through the following link:https://www.gov.uk/guidance/prove-your-english-language-abilities-with-a-secure-english-language-test-selt
There are different types of English language tests that can be taken to enrol in UK universities. For students applying directly to study at UK universities, they must achieve an IELTS score of 6.0 overall with a minimum of 5.5 in all components. However, if your IELTS overall score does not meet the English requirements of a UK University, a pathways course is the right choice for you.
If you have chosen to study your pathway course at BSMI, you will need to submit documents through the enrolment form available on the following link: Pathway Course Enrolment Form
Once received, the BSMI admission team will get in touch with students to discuss their eligibility for their chosen courses as well as discuss the progressing routes that are available to the students. Our counsellor will also talk about the documents required for the student's visa applications and help students with any questions they may have about their studies.
At BSMI, we will provide complete assistance to the students with the information required for the admission process. That way, the student will have a single point of contact where they can connect with the counselling team and get help.
Which pathways courses in the UK are best for international students?
The duration of the pathways courses is 9 to 12 months long which prepares the student for their progression into the University. These courses upskill international students in the English language and academic qualifications mainly in business for a guaranteed progression on successful completion to universities in the UK and overseas.
What are the top universities in the UK accepting pathways?
Here are the top 10 universities accepting the pathways progressed candidates:
How to apply for pathways courses at BSMI?
Students can apply directly through the BSMI website. Once the application is received, the counselling team will help the students to get through the admission process. Application forms as well as the eligibility criteria and other requirements are also mentioned on the website. Our admission team will get in touch to schedule a meeting with you to discuss your application and highlight if there are any missing documents.
Well Known Universities in the UK for Indian Students
Indian students in UK universities are the third highest ranking source country for international students. There are a number of reasons why Indian students prefer going to the UK for higher studies. For starters, the application process for visas and for universities is much simpler compared to other countries. The other great aspect is that UK universities give students a free hand to select the modules of the programmes.
Listed below are the top UK universities popular amongst Indian students:
Staffordshire University
University of Buckingham
De Montfort University
London Business School
Edge Hill University
University of West London
Leeds Beckett University
University of Bedfordshire
University of Warwick
Nottingham Trent University
FAQs:
What is a Pathways course?
Pathways courses are preparatory courses for further education helping students develop their English language skills and gain the academic qualifications  required at a higher education level. The successful completion of the pathways courses will enable students to progress to Universities in the UK or overseas.
What can I study at BSMI?
At BSMI, we recruit students who are pursuing a strong foundation in the business field with an aim to progress to progression universities to continue their education in business related majors.
What is the Transfer Pathways Program?
Transfer Pathways Programs give students the opportunity to study abroad in multiple locations. The students get to start their course in UK and progress to universities based in UK, Canada, USA and Germany. . That way they get to explore other cultures & lifestyles along with the learning.
What is the international degree pathways?
International degree pathways are the preliminary courses that are offered to international students to enhance their skills, language, and knowledge and gain qualifications which are required to enrol on to the high ranking universities for their bachelor's degree.
What is the Foundation Pathways course?
A foundation pathways program is a course that is designed to provide students with all the skills in academic English and the chosen subject area so that students can gain further progression onto the progression universities for their bachelor's degrees.