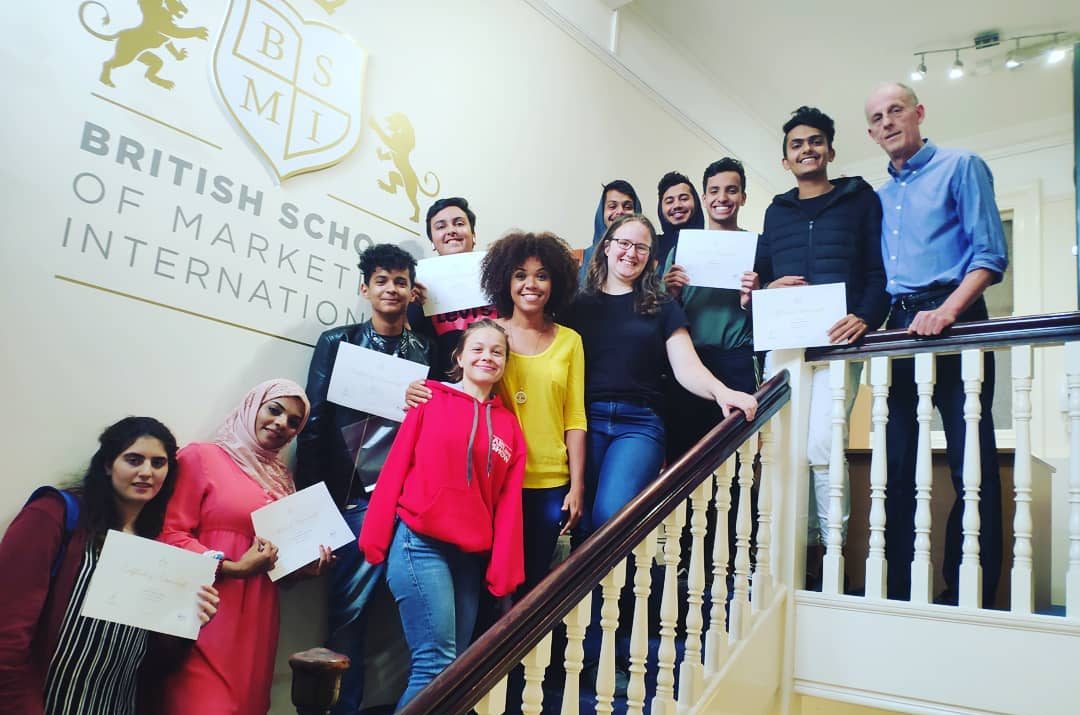 Do you intend to enrich your personal communication prowess to an ultimate standpoint? The best general English course in the UK would act like a breather and help you accomplish your lofty aim. Even a general English course, which is catered in the UK, has components that make the course equivalent to any professional course on skill development. Such a course will make you a perfect candidate ready for professional and productive entrepreneurship.  
Introduction
The method of instructing and imparting knowledge in the sphere of general English courses in the UK is unique. These courses offer enough insights into the quintessence of language exercises to enhance your linguistic capabilities for everyday use. Various journals as well as combined research work throw light on the way the education systems work. Apt probe into the realm of the general English courses in the UK would reveal that the methods of training would largely focus on proper imparting of life-altering education through rapt pedagogy, research-level initiatives as well as intensive methods of higher education. Independent schools, colleges and training centres specify informal or casual as well as formal language training initiatives. 
Essentially, these courses make efficient room for individual development along with the development of your professional skills. Be it an individual training process or be it a corporate training process, you should have seamless access to the systematic language training process. Each and every academic institute chooses to run their training programmes in a certain manner. The initiatives of literary as well as communicative faculty developments would be based on the backdrops of participants who seem to divulge in knowledge-seeking efforts through the language training programme.
Teachers, trainers and educators who dedicate their efforts to the quick development of English language proficiency levels. The chief objective of a general English Course in the UK would prevail on bridging the gap between the theories (that happen to be theorised) and the practices that take place in the world of language teaching. UK-based training centres, as well as schools, would focus on proffering the credentials pertaining to the intensive certification programme that comes with vocational values and job-related benefits.
Teachers and trainers in the circles of the UK literary world would believe that with regular and sincere practice, you can work on improving the profundity of your language skills. While doing regular lessons on a general English course in the UK, you will be in touch with an experienced mentor in who you can confide in. The mentor or the trainer will be the anchor of the course. 
Are you loooking for admission to General English Course in the UK ?
General English Course overview
Superb communication skills are akin to a gush of confidence that you can feel in you. The apt and precise implementation of a General English Course would be indispensable for inquisitive language learners as well as professional teachers. Language learners from diverse international borders and geographic boundaries can use the wage of these types of courses to intensify their knowledge base for job interviews and professional requirements. Educators quite often argue that the evolving nature of a General English Course would seek to add a strong and vivacious boost to the professional LTE skill development of learners. Let us make a thorough assessment of some of the best traits associated with the imparting of world-class general English language training. 
If you make a foray into the strategic big data dealing with the propensity for learning the traits of

a

General English Course, you will come to realize that a huge number of international student communities would be invested in the pursuit of a General English Course. People from distant parts of the globe tend to be enamoured of this language because it compiles communicative competencies, knowledge as well as cultural interference. In short, it is more like vocational education and training that entitles you to take a broad view of life and proceed with the oomph factor of a victorious individual in your own rights. 

These days, English as a language enjoys a rave reputation all over the globe. In which part of the world you might go, you should be able to use the influence of this language as a bridge that converges the gap that exists between different geographic locations. It is a powerful tool that you can use to your advantage no matter which part of the world you move

to

.  

The orbit of

a

General English Course encompasses different attributes as well as intensive elements that would actually work and make ample room for reflective activities.  These activities would be designed keeping a close tab on the learning objectives associated with the lessons which are being imparted. 

When the core specifications of

a

General English Course would be designed, a few quintessential aspects are going to elicit ample time and attention. The crucial aspects of

a

General English Course would be professional practice, development of the understanding capacities, and corporate levels of skill development scenarios. 

The knowledge infusion process is precisely flexible. It will not be confined to lecture-oriented knowledge infusion processes. The sessions will be more like practice

–

oriented educational sessions. The ultimate goal of the knowledge infusion process would be centred on the development of contextual knowledge, socializing skills, personal development, and sociological knowledge infusion process. 

One of the most intensive benefits of the language learning processes should be focused on multiple facets of linguistic skill enhancement. Educators, who work in this language training infrastructure, would choose to hone

in on

their LTE training strategies to streamline the core of performance cultures. The intensive learning outcomes that would be delivered after a huge amount of data have been thoroughly analysed by research scholars of this industry. 
How a General English course improves speaking, reading and writing skills
By resorting to the bounty of a general English course you will stand a chance to achieve some sort of equilibrium and measured composure in your communicative style and competency level. It does not require getting immersed in any rocket science, you have to do the best possible things to augment your literary skills and language learning initiatives. 
When you are strictly determined to impress people with your language skills, you should keep a sharp focus on certain aspects such as the use of power-packed vocabulary, perfect syntax, the profuse implementation of elite sentences that could set a distinctive tone for your English diction and the mastery over flawless grammar. Let us speculate on the following areas of importance if you have to work out an impressive level of skill development.
Read English magazines, journals and documents

: It is a sure-fire way and it is going to enhance the oral language abilities of an international student to a great extent. You should read as many English magazines, journals and documents as possible. The more you read, the

better

. Proper reading habits get your tongue habituated with accent patterns and intonation systems. With regular reading habits, you can actually pick up different types of international accents at ease. Besides, you can develop a sense of intense confidence in your abilities for swift comprehension.

Listen to audio files/podcasts/talk shows

: If you want to be a part of a proper syntactic infrastructure while trying to develop your skills in

the

English language, you can make it a point to give attention to a significant proportion of audio

files

/podcasts/talk shows. While listening to these shows, you will formulate a certain level of understanding of how you should communicate or articulate your thoughts while addressing a gathering. These types

of listening material

will give you a sense of how to master the butterfly syndrome during a public speech.

Watch movies in English

: By watching movies online or through cable networks, you can use great leverage. Movies represent life and they capture the true enigma of it on celluloid. By availing the option of watching movies, you will be able to get a close look at true English culture. In a way, this habit will make you ready for the course of learning English lessons. 

Use English forums/leverage the power of networking

: Networking skills are essential. As they say, your network is your net worth. If you want to take the leverage of a really fast learning process, you might want to check as many English forums as possible. You should try hard to leverage the power of networking to the best of your capacities. 

Enjoy a written story in English:

Erudite instructors would prompt the international student communities to read out stories written in English. Enjoy a story with the intention of summarizing the information that you can elicit out of it. If there are prompts along with the story, you can use the prompts to write the story in your own words. It would be a creative practice on your part. 

Watch interesting videos in English

: These days, so many interesting videos are available on the internet, on YouTube and on many other videos streaming virtual platforms. You can make full use of these videos. Make them a part

of

your language learning process. Take note of the stylish expressions that you come across in these videos. 
Last but not the least, a General English Course in the UK offers an amazing experience and a chance to introspect with the communicative traits that you possess inside already. The courses will have a great deal of significance for those who are eyeing a flourishing career in a wide spectrum of career avenues.
Application guide of Bournemouth University for International students
Be it in advertising, digital marketing, real estate, entrepreneurship or any other form of vocation, your knowledge of English will assume a role of significance in the development of your professional expressions and communications. 
It is your general English instructor who will help you develop new skills and attract new business opportunities and prospects in your respective line of vocation. Most essentially, they will do their bit by shaping up your personality and wrapping up your personality with its own aura. 
The entity of BSMI has amassed a significant amount of vogue and flourished because of the enriched inventory of lexical practices it has brought to the forefront. When you intend to be a part of this great institute, you will bag the coveted options for a huge number of academic disciplines as well as professional courses. 
Foundation courses

: Foundation courses in the UK happen to be crucial pieces

for

consideration for international students. 

University pathway programme

:

This is a

speciality program

me

for a determined learner. It is supposed to be a one-year course. In general, there are so many different types of subjects which might be a part

of

a

university'

s

pathway programme. The university programm

e

s (pathway program

me

) will encompass subjects such as humanities, engineering, life sciences, geography etc. When it comes to university pathway programmes meant for the study of English, you can rest assured that the courses will enhance the quality of your language skills to a satisfactory margin. Besides, a good score in English will give you an added advantage in securing a seat

at

prestigious universities in the UK. Moreover, you can establish or prove your mettle in exams such as IELTS as well as TOEFL. 

English Language courses

: These are specific programm

e

s that educate students on their varied needs. The importance of

an

English language course is something that you are always going to need. It will bolster communication and will help you score better in university exams. 

Undergraduate courses

: Undergraduate courses will make sure that you can grab the best exposure to a wide spectrum of segments such as creative writing, English literature, comparative studies, linguistics, and communicative English. These courses will be something that can

g

ive you a push in your career.

Business and marketing English

: The discipline of Business and Marketing English is more than simply selling a product to a prospective customer. There are many nuances that happen to be associated with the world of marketing as well as advertising. Making a foray into the target demographic through tactical communication channels would be another crucial aspect of the corpus of marketing the English language. 
Become a global communicator by learning English
With the edge of a general English language course tucked under your belt, you can go to the job role of a reputed global communicator by learning English. The course will instigate the heart or the desire for perfect learning in the minds of your students. When you are equipped with a certificate in general English, you will be able to give rise to rational brilliance in your linguistic repertoire.  
The methods, which are known to form an integral part of the training processes pertaining to the knowledge infusion process of streamlined general English training schedules, are good enough for self-studies as well as group studies. World-class teachers are appointed in the process of educating students so that they can avert discomfort and avail themselves of the most important and intensive British approach in the instruction of English.